05 Jul

EU-Japan.AI: Online platform offering matchmaking and exchange opportunities in AI and manufacturing

The EU-Japan.AI project aims to establish and promote long-term cooperation between the EU and Japan in areas relevant to AI-driven innovation in manufacturing and digital industries by implementing a platform-based approach. EU-Japan.AI is a modern, open, web-based platform showcasing rich online content and access to a collaboration network from the AI for manufacturing field. The main objective of the EU-Japan.AI platform is to provide key target groups with an interactive and informative online platform that offers opportunities for matchmaking and knowledge exchange.

The EU-Japan.AI platform is as an open platform, which allows representatives from industry, academia, research and innovation funders, policy makers as well as civil societies access to various information and services. Its flexible and modern online architecture provides interactive modules for users interested in building international networks, collaboration opportunities and knowledge exchange in Artificial Intelligence (AI) for manufacturing. The platform-based approach helps to connect all the relevant stakeholder groups in Europe and Japan.
EU-Japan.AI structure and modules
The EU-Japan.AI platform is based on a flexible and scalable structure which is built upon various modules. The following modules are available via https://www.eu-japan.ai/
Resources
Knowledge
Networking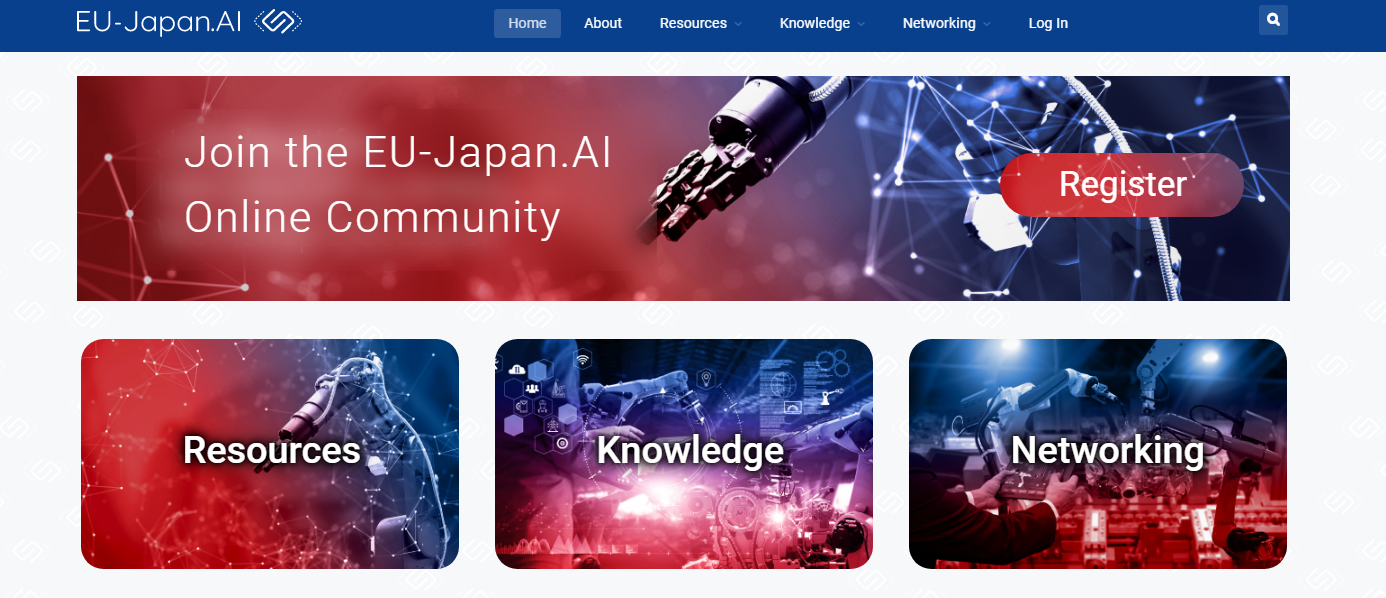 Resources: The resources module includes content in the form of various infographics, creative materials and videos as well as information on upcoming events, new publications, or recent developments in AI and manufacturing. Additionally, a variety of news and knowledge articles highlighting the latest trends and developments about AI and manufacturing can be found. These articles and insights were written by experts in the field of AI and manufacturing. The focus of the resources module is mainly on EU-Japan specific upcoming events, new publications, or recent developments related to the use of AI in manufacturing.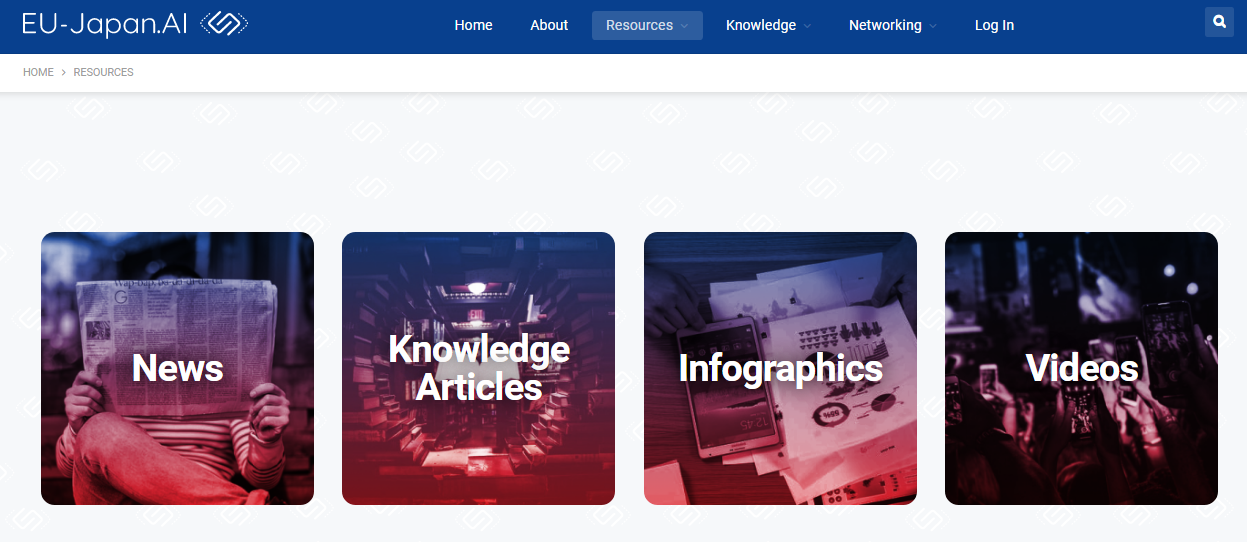 Knowledge: The knowledge module serves as a reference point for industry representatives, AI solution providers, researchers and other relevant stakeholders. It provides various collections of related events, projects, organisations and opportunities in both academia and industry. A large collection of about 500 organisations including AI providers, regulators, universities as well as research organisations can be shown as a map providing an overview of the AI ecosystem in Europe and Japan. In addition, a list of about 300 EU-funded projects (H2020, FP7) as well as other international projects related to AI and manufacturing is provided. Opportunities in smart manufacturing, such as research and development funds, or grants and funding for research projects, can be explored on the platform. For this purpose, registered users also have the possibility to propose their own announcements via the platform, e.g., by suggesting and announcing calls for tenders.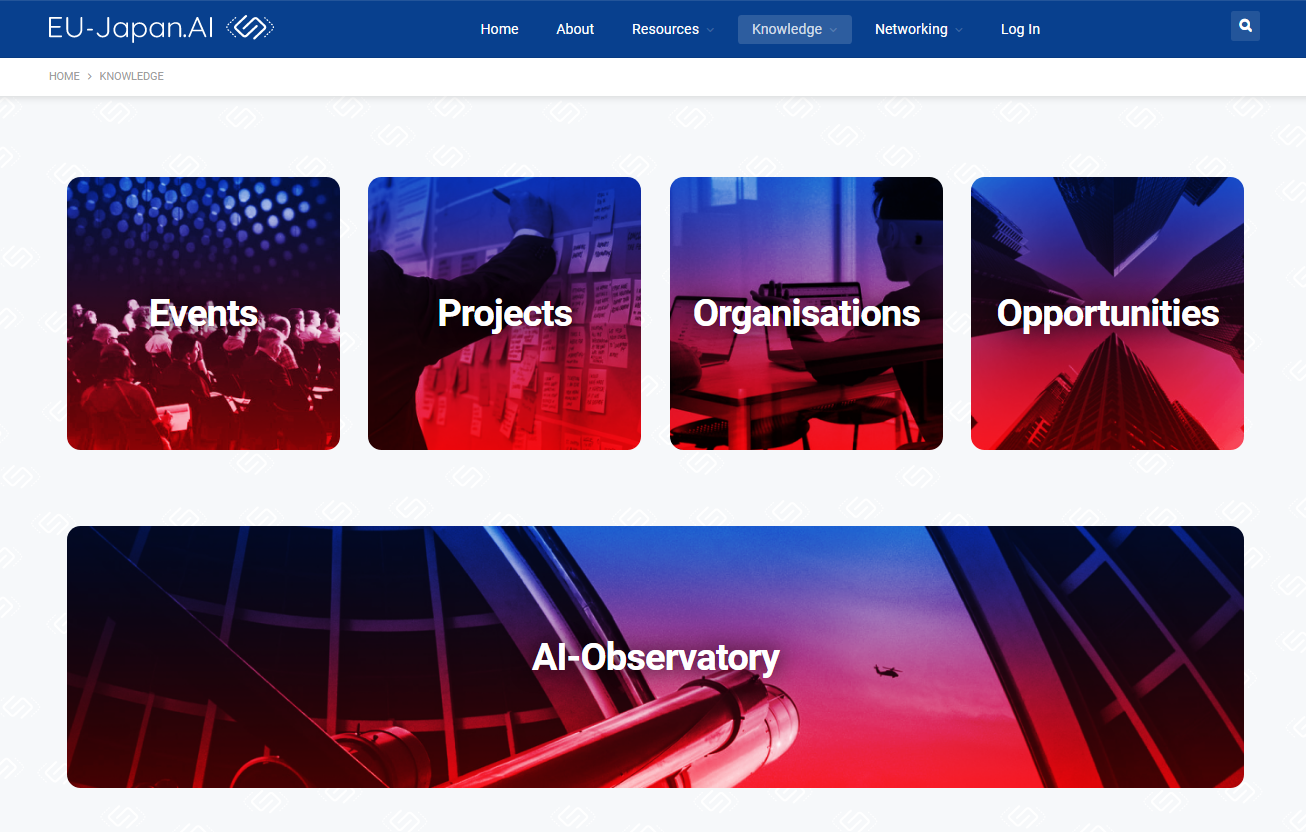 EU-Japan.AI Observatory: An additional component of the knowledge module is the EU-Japan.AI Observatory which aims to help users explore the development and use of artificial intelligence in manufacturing and various related industries in both EU and Japan. The observatory includes information about research, news, software projects and relevant jobs and skills in AI. Various AI-related topics such as machine learning, natural language processing, computer vision, robotics, and internet of things can be shown in relation to different industries, e.g., industry 4.0, heavy industry as well as medicine, pharmacology, higher education, agriculture and the food industry.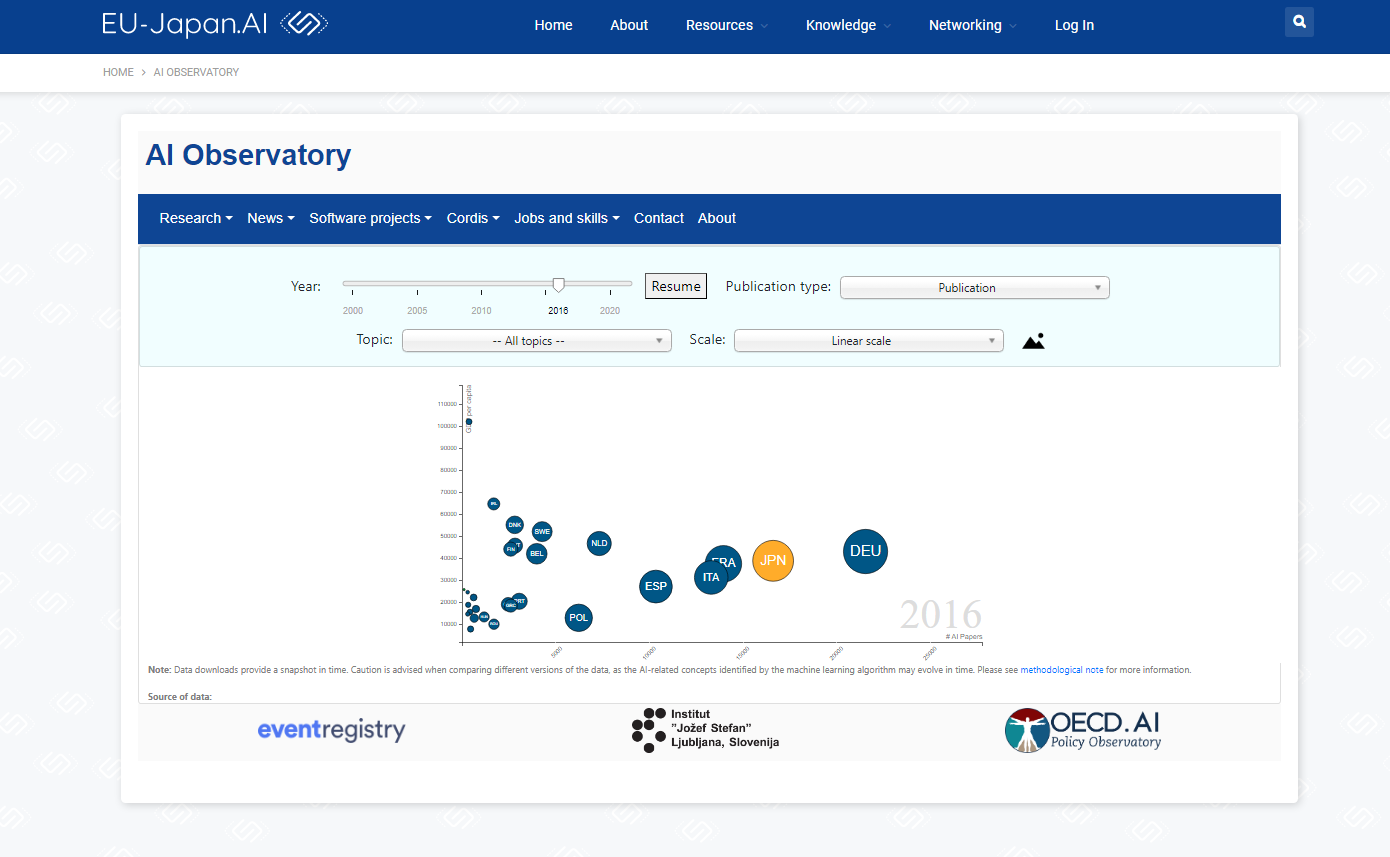 Networking: The networking module represents a virtual space that serves as the main meeting point of the platform.  It also provides a broad cooperation mechanism applied by the EU-Japan.AI consortium to actively engage with other research and development projects, in particular with other ICT-38 sister projects, in order to establish synergies and increase the impact of the project. At the core of the module is a forum that allows members to network, create various public and private groups and initiate discussions by asking questions on related topics or issues. For entering this module, users are invited to register on the platform, create a user profile and start posting questions and initiate discussions.